Melittis melissophyllum 'Royal Velvet Distinction'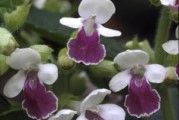 Melittis melissophyllum 'Royal Velvet Distinction'
Height: 12 - 14 inches.
Space: 18 inches.
Sun to part sun. This plant has bi-colored white hooded flowers with a purple lower lip and bright green foliage. Attracts pollinators and does well in containers. The plant is grown in gallon pots. It is available for local delivery or pick up at Walnut Grove Vocational Farm located at 33600 Pearl Street Kirkland, IL 60146. Plants will be ready in May for pick up or delivery.
Photo courtesy of GET Group, Inc.