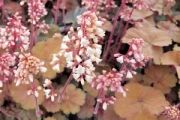 Heuchera 'Pink Pearls'
Height: 12 to 18 inches Space: 12 to 14 inches Part sun to full shade The plant has orange to dark pink foliage with pale pink blooms with red stems. It is grown in a 1 gallon pot. It is available for local delivery or pick up at Walnut Grove Vocational Farm located at 33600 Pearl St. Kirkland, IL 60146. Plants will be ready for pick up or delivery in May.
Photo courtesy of GET Group Inc.