Sold Out - Adult 18+ Flashlight Easter Egg Hunt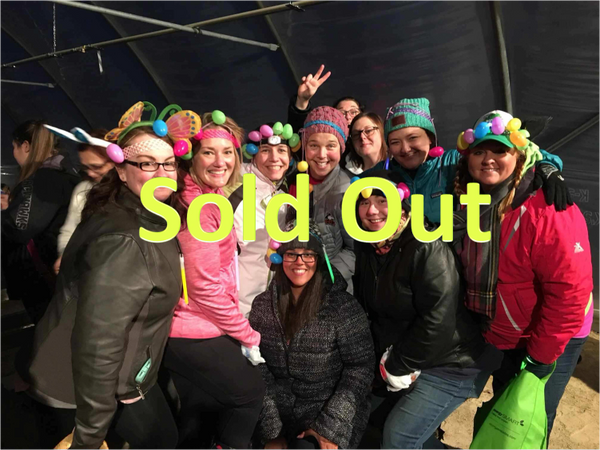 Sold Out - Adult 18+ Flashlight Easter Egg Hunt
Our egg-ceedingly successful Adult 18+ Flashlight Easter Egg Hunt event is back for a second year! Join us on Friday, April 12, 2019 for an event that will take you back to your childhood!  Adults (18+ only), grab your own Easter baskets, flashlights, and running shoes and get ready to search for 3,000 Easter eggs after the sun goes down. Easter eggs will be hidden on a 3-acre parcel (bigger than last year!). Inside some of the hidden Easter eggs will be special prizes; top prize is $100.00 cash! There are over 100 prizes this year!
New this year:
·             *Best egg costume! Costumes will be judged at 7:50 pm. First place wins a $25.00 gift certificate to Walnut Grove Vocational Farm.
·             *Bring your appetite with, as DeBenedetto's Restaurant & Bar of Kirkland will be selling beer and wine as well as Italian beef sandwiches and mostaccioli. 10% of sales will be donated to DCCG. Cash only.
Tickets are limited, so get yours before we sell out!
Event location: Walnut Grove Vocational Farm, 33600 Pearl Street, Kirkland, IL. Doors open at 6:30pm for check-in with a shotgun start at 8:00pm. (Please allow plenty of time for parking and check-in.)
Note: This is an outdoor event that will occur rain or dark, so dress accordingly.  Easter baskets and flashlights are NOT provided to participants. No one under the age of 18 will be allowed on the premise during the event; this will be strictly enforced. Parking information along with participant waivers will be emailed 4 days prior to the event. No tickets will be mailed or emailed. The email confirmation is proof of purchase. Upon arrival at the event, check in at the registration table to receive your wristband and hand in participant waiver.

Prizes include:
$100.00 cash – Sponsored by DeBenedetto's Restaurant & Bar and Tom Lawrence
$50.00 cash – Sponsored by 
$25.00 cash – Sponsored by Barbara J. Runne, DDS Kirkland, IL
$20.00 Gift Certificate – Donated by Nat's on Maple
One personalized T-Shirt (up to a $24.95 value) - Donated by Le print Express
Full service carwash - Donated by Ralph's Car Wash & Detail Center
Full service carwash - Donated by Ralph's Car Wash & Detail Center
$40.00 Gift Certificate - Donated by Family Farm Meats
$15.00 Gift Certificate - Donated by DeKalb County Community Gardens
$15.00 Gift Certificate - Donated by DeKalb County Community Gardens
$20.00 Gift Certificate - Donated by Kirkland Family Restaurant
$15.00 Gift Certificate - Donated by Joey G's Pizzeria 
$15.00 Gift Certificate - Donated by Joey G's Pizzeria 
Soy Candle - Donated by Enchanted Valley Farm
Soy Candle - Donated by Enchanted Valley Farm
Soy Candle - Donated by Enchanted Valley Farm
Soy Candle - Donated by Enchanted Valley Farm
Soy Candle - Donated by Enchanted Valley Farm
Soy Candle - Donated by Enchanted Valley Farm
Soy Candle - Donated by Enchanted Valley Farm
Soy Candle - Donated by Enchanted Valley Farm
Soy Candle - Donated by Enchanted Valley Farm
Soy Candle - Donated by Enchanted Valley Farm
Soy Candle - Donated by Enchanted Valley Farm
Soy Candle - Donated by Enchanted Valley Farm
$25.00 Gift Certificate – Donated by Ellwood Steak and Fish
$10.00 Gift Certificate – Donated by Hillside Restaurant
$10.00 Gift Certificate – Donated by Taxco
$10.00 Gift Certificate – Donated by Taxco
Steak and Bake Gift Box- Donated by Inboden's Meat Market
$15.00 Gift Certificate – Donated by Cassie's Corn Crib Café
Pizza Certificate – Donated by Italian Dreams Pizza & Pasta 
Pork Chop Sandwich Voucher – Donated by Country Store and Catering
Pork Chop Sandwich Voucher – Donated by Country Store and Catering
Pork Chop Sandwich Voucher – Donated by Country Store and Catering
Pork Chop Sandwich Voucher – Donated by Country Store and Catering
Pork Chop Sandwich Voucher – Donated by Country Store and Catering
$20.00 Gift Certificate – Donated by Silver Spur Saloon
$5.00 Drink Token - Donated by Silver Spur Saloon
$5.00 Drink Token - Donated by Silver Spur Saloon
$5.00 Drink Token - Donated by Silver Spur Saloon
$5.00 Drink Token - Donated by Silver Spur Saloon
Gift Certificate - Donated by Hands of Serenity Spa
$15.00 Gift Certificate - Donated by The Junction Eating Place
$5.00 Gift Certificate – Donated by Egg Haven
$5.00 Gift Certificate – Donated by Egg Haven
$5.00 Gift Certificate – Donated by Egg Haven
$5.00 Gift Certificate – Donated by Egg Haven
Bottle of Wine - Donated by Jeff Koehnke (Must be 21+)
Bottle of Wine - Donated by Jeff Koehnke (Must be 21+)
Bottle of Wine - Donated by Jeff Koehnke (Must be 21+)
Bottle of Wine - Donated by Jeff Koehnke (Must be 21+)
Bottle of Wine - Donated by Jeff Koehnke (Must be 21+)
Bottle of Wine - Donated by Jeff Koehnke (Must be 21+)
Bottle of Wine - Donated by Jeff Koehnke (Must be 21+)
Bottle of Wine - Donated by Jeff Koehnke (Must be 21+)
Bottle of Wine - Donated by Jeff Koehnke (Must be 21+)
Bottle of Wine - Donated by Jeff Koehnke (Must be 21+)
Bottle of Wine - Donated by Jeff Koehnke (Must be 21+)
Bottle of Wine - Donated by Jeff Koehnke (Must be 21+)
Bottle of Wine - Donated by Jeff Koehnke (Must be 21+)
Bottle of Wine - Donated by Jeff Koehnke (Must be 21+)
Bottle of Wine - Donated by Jeff Koehnke (Must be 21+)
$5.00 Gift Certificate – Donated by Karlsbad Tavern
$5.00 Gift Certificate – Donated by Karlsbad Tavern
$5.00 Gift Certificate – Donated by Karlsbad Tavern
$5.00 Gift Certificate – Donated by Karlsbad Tavern
Value Basket – Donated by Culver's
Value Basket – Donated by Culver's
Value Basket – Donated by Culver's
Value Basket – Donated by Culver's
Value Basket – Donated by Culver's
Concrete Mixer – Donated by Culver's
Concrete Mixer – Donated by Culver's
Camping Basket – Donated by the Craig Family
$10.00 Gift Certificate – Donated by the Genoa Chamber of Commerce
$10.00 Gift Certificate – Donated by the Genoa Chamber of Commerce
$10.00 Gift Certificate – Donated by the Genoa Chamber of Commerce
$10.00 Gift Certificate – Donated by the Genoa Chamber of Commerce
$10.00 Gift Certificate – Donated by the Genoa Chamber of Commerce
$10.00 Gift Certificate – Donated by the Genoa Chamber of Commerce
$10.00 Gift Certificate – Donated by the Genoa Chamber of Commerce
$10.00 Gift Certificate – Donated by the Genoa Chamber of Commerce
$10.00 Gift Certificate – Donated by the Genoa Chamber of Commerce
$10.00 Gift Certificate – Donated by the Genoa Chamber of Commerce
Birdhouse – Donated by an Anonymous Donor
$25.00 Starbucks Gift Certificate – Donated by an Anonymous Donor
Easter Garland – Donated by DCCG
Easter Garland – Donated by DCCG
$15.00 Gift Certificate – Donated by Mott's Lounge
Drink Token - Donated by Mott's Lounge
Drink Token - Donated by Mott's Lounge
Drink Token - Donated by Mott's Lounge
Drink Token - Donated by Mott's Lounge
Drink Token - Donated by Mott's Lounge
Drink Token - Donated by Mott's Lounge
Drink Token - Donated by Mott's Lounge
Drink Token - Donated by Mott's Lounge
Drink Token - Donated by Mott's Lounge
Drink Token - Donated by Mott's Lounge
Drink Token - Donated by Mott's Lounge
Drink Token - Donated by Mott's Lounge
Drink Token - Donated by Mott's Lounge
Drink Token - Donated by Mott's Lounge
Drink Token - Donated by Mott's Lounge
Small Vase with Flowers - Donated by Glidden Campus Florist
Small Vase with Flowers - Donated by Glidden Campus Florist
Small Vase with Flowers - Donated by Glidden Campus Florist
Small Vase with Flowers - Donated by Glidden Campus Florist
Small Vase with Flowers - Donated by Glidden Campus Florist
Small Vase with Flowers - Donated by Glidden Campus Florist
Small Vase with Flowers - Donated by Glidden Campus Florist
Small Vase with Flowers - Donated by Glidden Campus Florist
Small Vase with Flowers - Donated by Glidden Campus Florist
Small Vase with Flowers - Donated by Glidden Campus Florist
$10.00 Gift Certificate – Donated by Pizza Villa
$10.00 Gift Certificate – Donated by Pizza Villa
$25.00 Gift Certificate – Donated by Rosita's
No Chip Manicure – Donated by Reflections Hair Salon
Highlight Gift Certificate – Donated by Reflections Hair Salon
Men's Hair Cut – Donated by Reflections Hair Salon
2 Free Class Passes – Donated by Genoa Fitness Center
2 Free Class Passes – Donated by Genoa Fitness Center
2 Free Class Passes – Donated by Genoa Fitness Center
2 Free Class Passes – Donated by Genoa Fitness Center
Pool Pass for 2019 Season – Donated by Genoa Park District
1 Topping Pizza – Donated by Vinny's Pizza
1 Topping Pizza – Donated by Vinny's Pizza
1 Topping Pizza – Donated by Vinny's Pizza
1 Topping Pizza – Donated by Vinny's Pizza
Yoga Mat – Donated by Anonymous Donor
Wine and Chocolate Basket ($40.00 Value) – Donated by an Anonymous Donor
$25.00 Gift Certificate – Donated by an Anonymous Donor
Vincent Van Gogh's Starry Night Accent Pillow - Donated by an Anonymous Donor
Gift Certificate – Donated by Temple Yoga 
Ticket to Kishwaukee Symphony Orchestra – Donated by Anonymous Donor
Ticket to Kishwaukee Symphony Orchestra – Donated by Anonymous Donor
Ticket to Kishwaukee Symphony Orchestra – Donated by Anonymous Donor
Ticket to Kishwaukee Symphony Orchestra – Donated by Anonymous Donor
Gardening Gift Box – Donated by Tobinson Ace Hardware
Adult Day Pass – Donated by YMCA of DeKalb County
Adult Day Pass – Donated by YMCA of DeKalb County
Adult Day Pass – Donated by YMCA of DeKalb County
$45.00 Gift Certificate - Donated by Hands of Serenity
$45.00 Gift Certificate - Donated by Hands of Serenity

$45.00 Gift Certificate - Donated by Hands of Serenity
$20.00 Gift Certificate - Donated by Jonamac Orchard
$20.00 Gift Certificate - Donated by Jonamac Orchard  

1 Free Class - Donated by Temple Yoga

1 Free Class - Donated by Temple Yoga
1 Free Class - Donated by Temple Yoga
1 Free Class - Donated by Temple Yoga
1 Free Class - Donated by Temple Yoga
1 Free Class - Donated by Temple Yoga
1 Free Class - Donated by Temple Yoga
1 Free Class - Donated by Temple Yoga
1 Free Class - Donated by Temple Yoga
1 Free Class - Donated by Temple Yoga
1 Free Class - Donated by Temple Yoga
1 Free Class - Donated by Temple Yoga
1 Free Class - Donated by Temple Yoga
1 Free Class - Donated by Temple Yoga

1 Free Class - Donated by Temple Yoga
Easter Wine Basket - Donated by LeAnne Leffelman
Easter Wine Basket - Donated by LeAnne Leffelman
Easter Wine Basket - Donated by LeAnne Leffleman
Easter Wine Basket - Donated by LeAnne Leffelman
---