Coreopsis, Big Bang 'Star Cluster'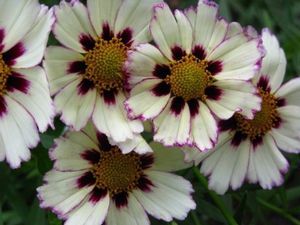 Coreopsis, Big Bang 'Star Cluster'
Height: 24 - 30 inches.
Space: 20 - 24 inches.
Full sun.  White tickseed with purple centers and edges that intensify with cool weather. Requires relatively low maintenance and is great for containers. Attracts pollinators and is drought and deer tolerant. The plant is grown in gallon pots. It is available for local delivery or pick up at Walnut Grove Vocational Farm located at 33600 Pearl Street Kirkland, IL 60146. Plants will be ready in May for pick up or delivery.
Photos courtesy of Hoffie Nursery