2023 Apple Scramble Hosted by Jonamac Orchard and Sponsored by Cresswood Shredding Machinery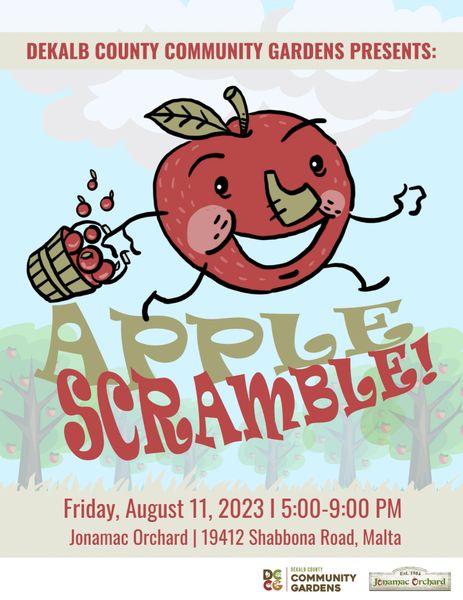 2023 Apple Scramble Hosted by Jonamac Orchard and Sponsored by Cresswood Shredding Machinery
🍎 Join DeKalb County Community Gardens for the Apple Scramble, an exclusive Adults-Only scavenger hunt fundraiser at Jonamac Orchard! Read to the end to see our generous prize sponsors!
Date: August 11
Time: 5 pm - 9 pm
Get ready for an evening of thrilling adventure and scavenger hunting fun at the Apple Scramble!🌳
🍽️ Indulge in Delicious Delights: Savor mouthwatering food provided by Hicks BBQ, and treat yourself to scrumptious apple cider donuts and refreshing beverages available for purchase in Jonamac's Cider House.
💰 Bid on Raffle Items: Test your luck and bid on an enticing array of prizes. There's a variety of items for everyone to enjoy!
🍏 Dig for the Golden Apple: At 6:30 pm, embark on an extra special adventure inside Jonamac's Corn Crib Play Barn with the exclusive Dig for the Golden Apple event. Uncover hidden raffle tickets and be the lucky winner of a $100 cash prize!
🔍 Adults-Only Scavenger Hunt: At 7 pm, the Apple Scramble scavenger hunt begins! Search high and low through Jonamac Orchard's endless apple tree rows to find special prize-filled apples. They'll be in a spot you least expect them! Pay extra attention and earn a special prize!
🤝 Help DCCG Make a Difference: By participating in the Apple Scramble, you'll not only have a fantastic time but also contribute to our mission of ending hunger and empowering individuals across DeKalb County. All proceeds from this event go towards supporting the many programs and opportunities that DeKalb County Community Gardens offers!
📆 Save the Date: Reserve August 11, from 5 pm to 9 pm, and join DCCG at Jonamac Orchard for an evening filled with adventure, delectable food, raffle excitement, and the exclusive Dig for the Golden Apple event!
Spread the word among your adult friends and let's make the Apple Scramble an unforgettable experience!
For more information, contact Karson Paris at kparis@dekalbgardens.org. We hope to see you there!
2023 Prizes:
$100.00 cash prizes (3)
$20 gift certificate – Tom & Jerry's
$30 gift certificate – Cracker Jax
$30 gift certificate – El Jimador
$20 gift certificate – Robin's Nest Bookshoppe
$20 gift certificate – Bea's Wok & Roll
$10 gift certificate (2) – Genoa Chamber of Commerce
$5 gift certificate (4) – Ollie's Frozen Custard
$25 gift certificate – Cesaroni's Café & Deli
$20 gift certificate – This & That Collectibles
$25 gift certificate – Barb City Bagels
$25 Fatty's Pub and Grill gift certificate donated by David Castro
Gift Certificate from Tangled Roots Brewing Company
Tickets for Two (2) to Genoa VolksFest donated by the Kishwaukee Valley Wanderers
Wine Tasting for Two (2) courtesy of Waterman Winery
Book pouch courtesy of Robin's Nest Bookshoppe
Barb City Cork Mug courtesy of Barb City Bagels
Basket of Garden Goodies courtesy of Tobinson Ace Hardware – Genoa
Candle Set donated by Emily McKee
Fused Glass Woodpecker donated by Karson Paris
Hand-knit hat (6) donated by Karson Paris
Soy Candle (12) courtesy of Enchanted Valley Farm
Hamilton Beach Sandwich Toaster